USS Enterprise Direct Communication
Podcast: Play in new window | Download (Duration: 2:29:36 — 342.8MB)
Subscribe: Apple Podcasts | Android | RSS
Another excellent #OO show.  As I am posting this Amsterdammack is jamming out on the stream getting ready for his new show that he will be doing with Craig of  http://netjam.org/ on Saturdays at 10am Central time. I will let you do the math from there. He is also responsible for the beautiful show notes you see below. On this episode of pimp my show notes you see the lovely thumbnails he added. It gave me a reason to go through and remove all the borders to images which overall I think helps the flow of the page. Ninja edit for some reason they seem to be back on some browsers. weird.
Speaking of images MartinJJ used them in Today's album art giving us the inception of album art. Album art within album art.
Our Captains came through again Captain iDouchebag made Captain Negatives year turning him into Captain Positive for the evening, and Captain SaltyHash came in with 1.67 litecoin earning them their producer credits for this episode of the show.
Finally thanks to MethodDan of Rathole Radio for the shout out and if you are stopping by after just hearing about the show stop by some Friday night and enjoy the live show. The chat room adds to the adventure. Anyhow without further ado.
Enjoy!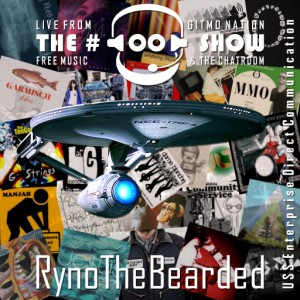 Playlist
Je$u$ – Begin – Bandcamp [cc-by-nc-sa 3.0]

Single Bullet Theory – Lies – Free Music Archive [cc-by-nc-nd 3.0]

The Toothaches – Natural Phenomena – Bandcamp [cc-by-nc-sa 3.0]

Martha – Sycamore – Bandcamp [cc-by-nc-sa 3.0]

Kylhiann Sin – Sextoy – Jamendo [cc-by-nc-nd 3.0] found (found via liaka)

Jonathan Coulton – First of May – JoCopedia [cc-by-nc 3.0]

Radio Nowhere – Spring (demo) – Bandcamp [cc-by-nc-sa 3.0]

Ukulele Clan Band – Everybody's talking – Bandcamp [cc-by-nc 3.0]

Cletus Got Shot – Business End – Bandcamp [cc-by-nc-sa 3.0]

Ukulele Clan Band – The Sun – Bandcamp [cc-by-nc 3.0]

La Dame Blanche – Vision – Jamendo [cc-by-nc-sa 3.0]

The Wind Whistles – The Sun – aaahh-records [cc-by-nc]

The TenGooz – Chatter (Life in The US under GW Bush) – Jamendo [cc-by-nc-sa 3.0]

LarG Productions – Reagan – Jamendo [cc-by-nc-sa 3.0]

Ace Bushy Striptease – Death By Autofill – Bandcamp [cc-by-nc 3.0]

Ace Bushy Striptease – Avoid Steel Girders In The Autumn (Ernest Pudding Takes A Bath) – Bandcamp [cc-by-nc 3.0]

The Toothaches – Swim Out – Bandcamp [cc-by-nc-sa 3.0]

Professor Kliq – Wash N Go Dream – Archive.org [cc-by-nc-sa 3.0]

Isaw – I Wander (Temper D Remix) – foof records [cc-by-nc-sa 3.0]

ManJah – Dangerous Reggae Music – Bandcamp [cc-by 3.0]

J.L.T – On the Run – Jamendo [cc-by-nc-sa 3.0]

M.A.M.I. – Been a long time – Archive.org [cc-by-nc-nd 2.5 Colombia]

Garmisch – Truth Is – Free Music Archive [cc-by-nc-nd 3.0]

The Toothaches – Break – Bandcamp [cc-by-nc-sa 3.0]

Single Bullet Theory – Five Strings – Free Music Archive [cc-by-nc-nd 3.0]

Single Bullet Theory – Keep It Tight – Free Music Archive [cc-by-nc-nd 3.0]

Dazie Mae – Sofa – Jamendo [cc-by-nc-nd 3.0]

Blue Swerver – At The Movies – Jamendo [cc-by-nc-sa 3.0]

MMO – Happy – Jamendo [cc-by-nc-sa 3.0]
Chatroom Noise
Tags: Ace Bushy Striptease, Blue Swerver, Dazie Mae, Garmisch, Isaw, J.L.T, Je$u$, Jonathan Coulton, Kylhiann Sin, La Dame Blanche, LarG Productions, M.A.M.I., ManJah, Martha, MMO, Professor Kliq, Radio Nowhere, Single Bullet Theory, The TenGooz, The Toothaches, The Wind Whistles, Ukulele Clan Band