Spiedkiks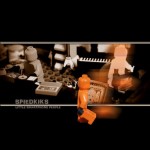 Aside from another staggering attempt to mold measly words into representations of oceanic waves of sound, I must also share a bit more wonky terminology regarding the variety of liberal licenses. Considering that this column is known as Free Cultural Work, allow me to devolve and digress into the near-legalese of that phrase for a moment.
The Free Culture Foundation was inspired by the GNU Project and The Free Software Foundation, and began as FreeCulture.org on April 23rd, 2004. Over subsequent years, they developed a Free Culture standard. By definition, Free Cultural Works must allow for public use, study, sharing, and adaptation. In addition, these works (optionally) may only require two conditions be met: Attribution and Share Alike. There are varieties of licenses provided by Creative Commons which conditionally prohibit commercial use and/or derivative works (adaptation), for example, which do not fit into Free Culture. On top of all this, one can fire up their trusty interweb box and read up on the overlapping definitions of copyleft and copyfree if they are so inclined. Onward.
The most poignant release in my recent memory that fits the strict, definitive standards of "free culture" and "tasty morsel" is Spiedkiks' Little Smartphone People from March of this year.
Spiedkiks—a Cologne, Deutschland duo—were allegedly aiming to brew something downtempo "in the first place", but I challenge anyone to listen to this album sitting down. From the opening track, "Disco Bunny", you know this subversive bunch is here to party.
Skillful intertwingling ¹ of electronic and analogue instruments (i.e. Moog, Trombone, Violin, Turntables, Vocals, Drums) in addition to a deep roster of guest talent make for a deeply layered mix. Let me single out a few exceptionally heavy punches: "One Hot Finger Lickin' Minute" gives us a quick prime example of Spiedkiks' brand of synchronized cacophony. Anthemic energy fills "Freckles & Hairslides" for a while, after which the rhythm repetitively breaks down into beautiful little fractal fragments, gathering entropy, then returning to the ocean to coalesce. "Selfie @ The Zoo" features violin leading a chorus of haunting vocals dabbling into Near East territory. "Sundowner" earns a place near and dear to my heart for heavy utilization of the boisterous trombone. "Helicopter" rocks in a hard, primal fashion and reeks of the familiar angst of awaiting impending upheaval.
Professional arranging and production skills abound on Little Smartphone People. In order to ensure they would have as much fun making the album as listeners do when the needle drops, Spiedkiks rang up remote and local connections Johannes Hehrmann, Justus Heher, Dominik Berlin, Mr. Goodbar, Kurt from Suso, Shazalakazoo, and Jero Castella to help in actualizing this album, which itself is a testament of a growing community of creators of free cultural works.
¹ verb – To connect together in a complex way; specifically, to compose of one another's components.
Spiedkiks | Little Smartphone People | 2014 | CC-BY-SA 3.0 DE| Rec72 Netlabel
This work by Alex O'Brien is licensed under the Creative Commons Attribution 4.0 International License. To view a copy of this license, visit creativecommons.org/licenses/by/4.0/
And remember life is better when we share