Independent Music Around The Pool
Podcast: Play in new window | Download (Duration: 2:28:06 — 136.1MB)
Subscribe: Apple Podcasts | Android | RSS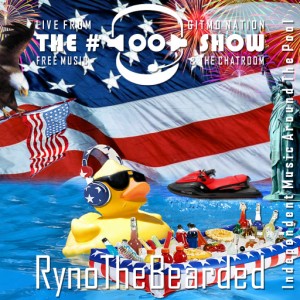 An adventurous poolside #OO to celebrate the fourth of July. The American holiday where we hang out with Friends celebrate our freedom by blowing things up and eating BBQ. I must say it was nice to be able to bring you this episode poolside with Captain Negative. With that being said I had some limitations with the broadcast. The first was because of being out in the middle of nowhere all I could handle for bandwidth was 128 upstream. The other issue is I was unable to record local. So let me give a big thanks the several people who recorded it for me, and  SndChaser for getting me his copy. It was given to me at 320 but I put it back to 128 because that was the original bit-rate. Didn't think there was enough quality difference to justify the larger size.
MartinJJ and Amsterdammack for pulling off the impossible and making me look good. Show notes and Album art once again thanks again to them.
Anyways time for the show.
Playlist
Chatroom Noise
<amsterdammack> MartinJJ: you have to ask Adam he is from the future not me
<SirDSCinOR> it sux to feel good…
<MartinJJ> should I ask what W.A.S.A.B.I. stands for?
<MartinJJ> it makes me think of knackebrot
<amsterdammack> W.A.S.A.B.I. (aka We Are Savage And Badly Infected) is a French Power Punk/Electro band.
<Klaatu> omg they're french…..
<MartinJJ> badly infected? herpes or so?
<amsterdammack> https://www.facebook.com/wearesavageofficial/info
<Klaatu> WASABI – japanese horseraddish sauce
<amsterdammack> a message to artists with a jazzy hip hop background:https://twitter.com/CultClassicRecs/status/485136818896388096
And remember life is better when we share
Tags: Cletus Got Shot, Dazie Mae, Dr. Mindflip, Glen Raphael, Hot Fiction, I'M FRESH! YOU'RE PRETTY!, Juanitos, Louis Lingg and the Bombs, Matthew Tyas, MISSISSIPPI ALLIGATORS, MMO, Room 101, Slim, T Bird and the Breaks, The Blue Stones, The Dark Clan, The Gunshy, The Online Musical, The Shark Bubbles, The Stereophones, The Verandas, W.A.S.A.B.I.