A Tear Gas Sunset Over Seamen & Spiders
Podcast: Play in new window | Download (Duration: 2:59:26 — 410.7MB)
Subscribe: Apple Podcasts | Android | RSS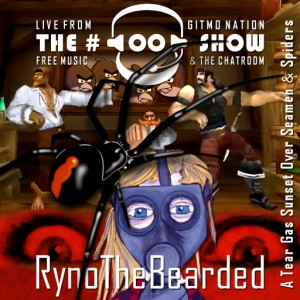 Another great #OO show were I am just a little bit bitter. Josh from Louis Lingg and the Bombs stops by to talk about their new album.
Producers
We bring on 2 new Seaman to the crew with beernurd coming in with a $20 donation and RobLeather coming in with a $30 donation. Welcome aboard.
As always a big thanks to MartinJJ and Amsterdammack for making sure we have great show notes. I must say my favcorite part of Saturday morning is waiting for the new album art from MartinJJ to come in. He always does such a great job.
Playlist
Guest
Josh – Louis Lingg and the Bombs
https://www.facebook.com/louislinggandthebombs
Seamen
http://rynothebearded.com/the-crew-of-53/
Chatroom Noise
<thelovebug> RynoTheBearded, I'm tempted to block our entry next year, 'cos we simply don't have a chance.  Two years in a row we made it to the finalists stage, and – if I'm really honest with you – that's good enough for us.
<manimal> I walked into the hotel this morning and we had about 75-100 teenagers staying with us and the first thing I noticed was the overwhelming smell of AXE bodyspray then 4-5 minutes later my eyes started tearing up because they were burning
<manimal> no disturbances, we gave them warm milk and cookies last night at 9pm and they were silent by 10
<MartinJJ>Brad Sucks: https://f1.bcbits.com/img/a0636221148_10.jpg
<manimal> I like Amanda Palmer's sound but I've ALWAYS said she rubs me as a pretentious artfuck
<CitizenX> ITM RynoTheBearded —-> just wanted to POP IN and say CONGRATS on being nominated for a podcast award!!!! I was sooo stuned when I was you were named for podsafe music. GOOD FOR YOU!!!! WOOT!
<MartinJJ>hope its not a big middlefinger on your arm lol
<manimal> I hope it's a flaming firetruck chasing zombies into you armpit teighnted
<RynoTheBearded> http://rynothebearded.com/the-crew-of-53/
<teighnted> dammit! now i want wings!
<teighnted> i plan on doing butt-fuck all this weekend. it's a "me" weekend.
<RynoTheBearded> actually just pooped on the last block
<RobLeather> WOLF SPIDERS!! http://www.gifbin.com/bin/25yuswsw28295.gif
<RobLeather> teighnted Did it look like this? http://fc08.deviantart.net/fs70/f/2012/052/7/b/posh_spider_by_little_miss_boxie-d4qjvu6.gif
<RynoTheBearded> http://i.imgur.com/FUFMk2D.gifv
<RynoTheBearded> the first widow I ever saw was half an inch away from my elbow
And remember life is better when we share
Tags: A Blossom Fell, Borelius, Cletus Got Shot, Emerald Park, Fit and the Conniptions, Jeff Rosenstock, Jonathan Coulton, Kevin MacLeod, Louis Lingg and the Bombs, Matthew Tyas, Mported Flows, SWY, The A.J. Gatz Project, The Impossebulls, The Stoop, The Toothaches, Vienna Ditto, Vita and the Woolf