RynoTheBearded With T1CK5 From Vienna Ditto
Podcast: Play in new window | Download (Duration: 3:03:47 — 420.9MB)
Subscribe: Apple Podcasts | Android | RSS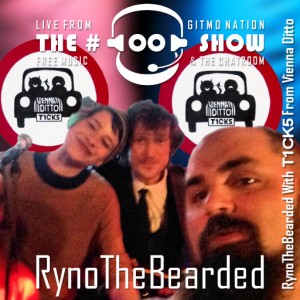 #OO for 4/29/2016 AKA Vending Machine Beer
Nigel and Hattie from Vienna Ditto stop by to talk.
Big thanks to our producer Captain ViDouchebag with $25 donation,
MartinJJ with awesome album art and great work on putting together show notes.
Enough of this yapping on to the show
Playlist
Guests
Hattie Taylor & Nigel Firth
Chatroom Noise
<RobLeather> MartinJJ No, it's Doomlord Bloodhound

<silver> tiny willleather

<teighnted> wish we could have made that show in Amsterdam

<RynoTheBearded>

https://viennaditto.bandcamp.com/album/ticks

<Amsterdammack> RynoTheBearded: Tell those guys I love them!

<MartinJJ> next time they are in the neighbourhood, go check them out

<teighnted> can we bring the kid? 😛

* silver bakes some tater tots

<Amsterdammack> Tupelo Miss to Jackson Miss. Thats a country song title there RynoTheBearded just ask them!

<RobLeather> RynoTheBearded ViDoucheBag Silver

https://twitter.com/RobertLeather/status/726199239404064768

<Klaatu>  Yeah, we're goin' to Jackson, ain't never comin' back.

<Amsterdammack> I smoke a joint and I wake up…

<ViDouchebag> caffene is still working even if you go to bed, you just sleep like shit

<RynoTheBearded>

http://podcastawards.com/

<majordowner> I've always been a huge Belushi fan

<Amsterdammack>

https://en.wikipedia.org/wiki/Blind_Willie_Johnson

<Amsterdammack> ViDouchebag, Hemorrhoids and waking up to pee during the night?

<ViDouchebag> lol, MartinJJ , I was going to say crazy eyes 🙂

<RynoTheBearded>

http://imgur.com/u0d5Bpx

<SaltyHash> my dogs look up with concern

<SaltyHash>

http://i.imgur.com/Bj6TdiG.jpg

<SaltyHash>

http://i.imgur.com/7gnZmyA.jpg

a maker?

<MartinJJ> your knob needs to be in the upright position…? Lol sounds like a joke in the manual.
Tags: 85 decibel Monks, Cullah, Devil Say Dance, Jacob Haller, Jake Gordon, Mercury & The Architects, Phoebe Robinson, T Bird and the Breaks, The.madpix.project, Vienna Ditto