Rage and Frustration on Black Friday
Podcast: Play in new window | Download (Duration: 2:32:54 — 350.3MB)
Subscribe: Apple Podcasts | Android | RSS
An excellent #OO show as always. Hayduke_X from Rage and Frustration that airs on Stream 2 on Monday Nights stopped by chat and shared some metal with us. Captain SaltyHash comes in with a .1226 btc donation for another producer credit. MartinJJ as always with excellent album art.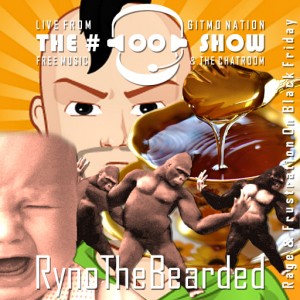 Playlist:
Professor Kliq – The Most Beautiful Day
T Bird and the Breaks – Two Tone Cadillac
Louis Lingg and the Bombs – Freedom Fighter
SFH – On the way – SFH
Boxofbrats – Wait, Always Wait
Kursed – Tsa tsa tsu
MMO – Twenty Years Behind
ZOE.LEELA – Pop Up
ZOE.LEELA – Bleed
Sweet Play – THE GIRL
Juanitos – Black Samba
T Bird and the Breaks – Hallelujah, Glory Be
Show Me Island – Really Wanna Know
Emerald Park – Lights of Sunday
Kris Roche – Shot Down
Black Market Serotonin – Singularity
Tony C – Entropy
Check Out Hayduke_X show on Monday night
axidance – Close your eyes for one second – you will not see the light. close for two – you will not see the world
axidance – A look in the eyes of death
Of The I – Of The I – Ascend
Paul and Storm – The Way-Too-Early Christmas Song
EXTRAtheBAND – Don't you know
Shearer – Julia
Millionaire Blonde – Andrea Si Sposa
Shearer – Can't stop it
EXTRAtheBAND – Don't you know
The EGOTWISTERs – Extrovertiert (feat. Your Crew)
If you are at your computer while listing I highly recommend loading this gif https://lh3.ggpht.com/-0R11luEXQec/Ufa1dcmM4bI/AAAAAAAAOAI/0hWk-S3RVm4/s1600/baby-crying-dancing-monkeys.jpg for the next song

Imperial Tiger Orchestra – Yedao

Limbo deluxe – Shimmy Shimmy on the Left
Hot Fiction – I Just Want Your Body
*Captain Negative
twitter riot mastered
Random thoughts from the chat.
#OO 11 29 2013
And remember life is better when we share
Tags: axidance, Black Market Serotonin, Boxofbrats, Emerald Park, EXTRAtheBAND, Hot Fiction, Imperial Tiger Orchestra, Juanitos, Kris Roche, Kursed, Limbo deluxe, Louis Lingg and the Bombs, Millionaire Blonde, MMO, Of The I, Paul and Storm, Professor Kliq, SFH, Shearer, Show Me Island, Sweet Play, T Bird and the Breaks, The EGOTWISTERs, Tony C, ZOE.LEELA