Holes Of Trouble In The Wall
Podcast: Play in new window | Download (Duration: 2:28:22 — 339.9MB)
Subscribe: Apple Podcasts | Android | RSS
Another excellent #OO show. Fun was had trouble was caused. A big shout out to our Producers for last night's episode Captain ViDouchebag with a $50 donation and DrNo2001 as a first time listener also gets his first producer credit with a $5 donation. MartinJJ continues with his awesome album art and big thanks to Amsterdammack and everyone else who help put together the show notes. Enjoy.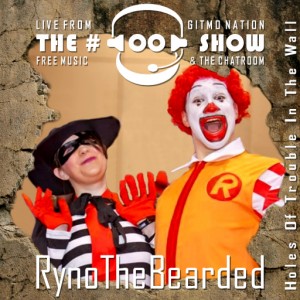 Playlist:
Chatroom noise:
<teighnted> sorry i'm so late
<PG_Kelly> teighnted, those aren't words any guy want to hear!  🙂
[02:13] <teighnted> MartinJJ: are you suggesting they just want me to clone them? how did they find out about the lab???
[02:16] <RobLeather> You don't want your fluxes over capacitating.
[02:42] <Smash> itm ryno. lovely show as usual.
[02:55] <progo> Kosplay Keri's hole. SFW https://www.facebook.com/photo.php?v=411335928983051&l=864181561139855559
[Kosplay Keri and her partner fell through the wall, laughed their asses off, and got banned from Chaturbate for either a "service uniform" (no it wasn't a service uniform) or "abuse". Ban was fixed.]
[02:56] <manimal> i just got Time Warnered
[03:18] <manimal> my sister's listening. impress her ryno
[03:28] <progo> "Kosplay Keri's hole"?
[03:28] <RynoTheBearded> A crisis Diverted?
And remember life is better when we share
Tags: 10 Code, Amanda Palmer & The Grand Theft Orchestra, Beltaine's Fire, Biting Elbows, Crete Boom, Dazie Mae, Diablo Swing Orchestra, Dust Trial, Ez A Divat, Fall Walk Run, Hot Fiction, Kismet, LessXmorE, Lorenzo's Music, Marc Neibauer, Nasimiyu, RETROSONIC, Stephane TV, The Acousticals, The Dead Rocks, The Freak Fandango Orchestra, The Riptones, The Uncredibles, This Public Life, Too Little Cage, Wallcrush