Sentimental Feelings Over Robots
Podcast: Play in new window | Download (Duration: 2:32:49 — 350.1MB)
Subscribe: Apple Podcasts | Android | RSS
A post time shifting event and an excellent #OO show and After Party. I actually did prep work for last nights show. Then I ended up binge buying on Bandcamp and discovered a lot of new stuff. Life was good. Big props to our Captains as they both came in as Producers for this epsiode ViDouchebag with $100 donation and SaltyHash with 2 Litecoins. Thank you Captains. Then we have the gents that do the work Amsterdammack pulling together shownotes and MartinJJ supplying the album art. Great work gentlemen.
Other than that I miss Bob v1.0
Ninja edit. I forgot to mention if all goes as planned will have the Toothaches live Monday night at 7 PM central time.
Enjoy.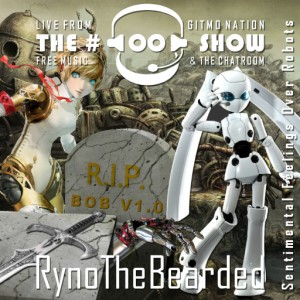 Playlist
Chatroom Noise
Preshow brought to you by Amsterdammack. Hopefully he will start them earlier and get his show up and running soon.
<manimal> i feel i need a new "state of McAfee" video every thirty days
<manimal> my mucous glows in the dark i noticed this week
<SiliconSpin> Whoa, whoa, glowing is my job
You know I can tell MartinJJ is not around where he be?
oz_tunan> If I did that today, my balls would turn inward.
[01:03] <manimal> Bob had AIDS anyway I'm pretty sure.  His fate was sealed either way.  I am not the bad guy in this scenario.  Ryno was careless with Bob's life.
[01:04] <MartinJJ> manimal: yeah…lets depress him some more
[01:04] <MartinJJ> maybe we can make him cry on air
[01:04] <oz_tunan> Its all your fault Ryno!
[01:04] <oz_tunan> He'd be alive if you didn't do what you did. :p
<manimal> this will probably get me kicked in the virtual balls but what the hell ….
* manimal pokes teighnted in her boob with his large stick
https://twitter.com/GeorgeTakei/status/444632359028412416/photo/1
[01:59] > Ok guys. The truth. Your not twenty anymore: http://secretstaache.tumblr.com/post/75595033898/bubblegumdefective-solidarity
[02:07] <teighnted> this is seriously a great track though. even with the "butt fucking"
https://www.youtube.com/watch?v=icmRCixQrx8
And remember life is better when we share
Tags: Ancient Lasers, Arising, Ben Walker, Celebration, Divenere, Garmisch, Hearse Pileup, Louis Lingg and the Bombs, ManJah, Martha, Other Noises, Pornophonique, Professor Kliq, Secret Diaries, Stephane TV, Sueño De Dahlia, The Cascos, The Decomposers, The Gray Havens, The Maggie Whackers, The Toothaches, The Wind Whistles, The Womb, Ukulele Clan Band