Angry B. & Welder B. Screaming Oh Oh
Podcast: Play in new window | Download ()
Subscribe: RSS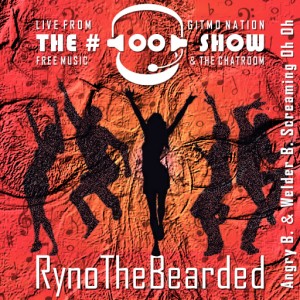 On a heartwarming #OO show I get to announce the engagement of 2 #OO regulars. @teighnted and @RobLeather are getting married!! LGY!!! The #OO show helping people get lucky since 2011.
Thanks to both of our Captains for donating to help produce this weeks #OO show. ViDouchebag came in at $100 and SaltyHash with 7.99 to be this weeks producers. I also need to do a make good on GummyNerds donation for the last weeks Top Ten show. Thank you and I will keep rocking awesome tunes for y'all.
Thanks to MartinJJ for album art. And A second thanks to MartinJJ and to Amsterdammack for putting together the show notes.
Anyways enough of this yapping lets get onto the show!
Playlist
Engaged: Angry Boner & Welder Boobs – fucking bunnies
Chatroom Noise
<teighnted> MartinJJ is just a fig newton of our collective imaginations
<teighnted> Amsterdammack, no. no we did not. we didn't make it much of anywhere.
<teighnted> we had other things to ummm, take care of 😉
<RynoTheBearded> http://i.imgur.com/tLnfXeJ.jpg
<MrsLeather> this summer i'm making the move over the pond
<RobLeather> How are you Americans going to be able to draw your sword when you are on the wrong side of the car? Duh!
<RynoTheBearded> http://imgur.com/Wbc9w79.gifv
<RobLeather> I think OO couple.
<silver> no, ryno, you get no credit
<ViDouchebag> besides, no one screams out NA during sex, but I've heard a lot of O OO OOO
<RobLeather> RynoTheBearded http://static.businessinsider.com/image/52b84a70eab8ea13673fafb8/image.jpg
<relaxedman> that would be funny if the russian word for bitch sounded the same as soccer
<MartinJJ>Oops!  http://bin.snmmd.nl/m/x7ewpj5p8c06_std640.jpg
<johnfletcher> *yells Double OOOOOOOO!
<RobLeather> MrsLeather "Angry boner"!? Do you have to share your pet name for me in public.
<MrsLeather> awww, shush now, Angry Boner
<SaltyHash> http://i.imgur.com/guaX2Uh.jpg
<manimal> so the porn i was watching before i came in here was with 2 redheads (coulda been sisters).   it was so good.
<MrsLeather> dick-shroom!
<RobLeather> http://scontent-a.cdninstagram.com/hphotos-xap1/t51.2885-15/e15/10724188_773648789347915_1845605428_n.jpg
<RynoTheBearded> http://cdn.meme.am/instances/500x/42467153.jpg
<MartinJJ>Hot girl   http://bin.snmmd.nl/m/1bnwqdvpwmf3.gif
<RynoTheBearded> http://www.scientificamerican.com/article/strange-but-true-drinking-too-much-water-can-kill/
<progo> what is it with people in UK drinking dangerously too much, so often? http://metro.co.uk/2015/01/29/man-blames-vindaloo-curry-and-too-many-pints-after-defecating-on-club-dancefloor-5041944/
<MrsLeather> http://chrishadfield.ca/
<progo> gis for Angry Boner yields http://art.ngfiles.com/images/98000/98128_i-smel_angry-boner.png
<silver> if he kicks ryno in the butt i want that on video
<silver> i told you, i need my 3 doses a week of cranky old man