I think I am giving him worry lines
Podcast: Play in new window | Download (Duration: 56:53 — 130.2MB)
Subscribe: RSS
Your weekly Top ten click more for spoilers. Some odd timing brought the end of this show to a slow train wreck. But sometimes silence is the loudest thing you can hear.
---
---
Thanks for the intro Tyson. The Spin Wires are:
The Spin Wires are a Punk/Dance Rock band from Buffalo, NY. Never taking themselves too seriously, they embody the best elements of bands like Franz Ferdinand, The Black Keys and The Arctic Monkeys.
If you would like to know more about the Spin Wires check out their recent appearance on the #OO
---
---
9. Daniel Estram – Air 
Available through Magnatune I don't know much about Daniel Estrem yet, I look forward to learning more. This is one of 2 tracks this weekend that come to us via SndChaser and the CerebralMix.
---
---
The Second pick of the week brought to us by SndChaser Ergo Phizmiz Another I don't know much about but according to hisFMA page:
Ergo Phizmiz is one of the most productive artists in the world. Over the past 13 years he has created a body of work of hundreds of hours across theatre, songwriting, text, electronic music, collage exhibitions, installations, opera, video, and radioplays that has constantly defied categorisation and been performed or broadcast all over the world
---
---
7. Nowhere Again – Plans 
Off Superstar Destroyer a net label that tickles my harder side. Off Nowhere Again's album Now that I am Twenty this track was:
Recorded and re-recorded in a lot of places over the course of four years. It's been fucking epic.
I agree enjoy this epic track.
---
---
Nebraska Skies – Music Video from Dennis Drenner on Vimeo.
Music video for the song "Nebraska Skies" by the Baltimore-based band "The Frontier Dentists" (Lee Connah (guitar and vocals), Caryll Campbell (bass), Melissa Sharlat (vocals), Sean Lally (electric guitar) and John Breitmeyer (drums)). Written by Lee Connah and the Frontier Dentists. Actors Will Haza and Michelle Murad. Special appearance by Davinci the Dog. Special thanks to Darrel and Christie Drenner for the use of their farm, and to my wife Karen Alvarez for listening to the song 10,000 times without complaint during the editing process.
Video shot and edited by Dennis Drenner.
Lee was the most recent #OO guest working with me through crazy scheduling changes but I am glad I was able to have him on. Check it out.
---
---
I just noticed I was putting this show together the Spin Wires have a bunch of their vocal stems on ccmixter for those of you who like to make music. Check em out the are also The Spin Wires there.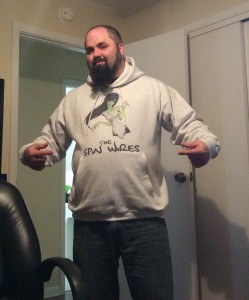 Me with my new Spin Wires sweatshirt. Damn I look sexy.
---
---
There Facebook bio says
"We have been a band for a long time and still enjoy it."
That says a lot right there.
---
---
Founded in 2011 ProleteR is a Producer / Beatmaker hip-hop jazz and stuff who continues to blow my mind with his smooth mixes.
---
---
From Quote Unquote Records
"Shinobu is a fantastic band that has been making a mess of indie rock (the pavement one, not the boring dance music one) for a decade and a half. Their latest release, 10 Thermidor, is an instant classic cloaked in freakouts, anxiety and darkness, simultaneously invigorating and terrifying. Entirely unique, smart and catchy, this is a record that you will want to listen to again and again and again."
I have to agreee.
---
---
1. Pornophonique – Sad Robot 

Pornophonique – Sad Robot from Brunner GmbH on Vimeo.
27.09.2013
Sedorama Perspektiven 2013, Schönbühl
Yes this band performs live using a modded gameboy and an acoustic guitar. I do think that makes them even cooler.
---
I Hope you enjoyed the show.
Remember The content of this show is released on a cc-by license. The tracks contained within retain their original license, see the show notes for more information. To listen live come by Sunday nights at 9 p m on the #OO-stream (as of late I have started recording around 2 pm and today's was done at 10 AM). You can find it at https://rynothebearded.com/chat/. There are almost always people there ready to talk music or anything else you may enjoy. most of all remember to support the artists and musicians who make the show possible by releasing their music under a creative commons license. With out that, this show would not be possible.