Dutch Double-O Matroos Hamburgers
Podcast: Play in new window | Download (Duration: 2:38:21 — 362.8MB)
Subscribe: Apple Podcasts | Android | RSS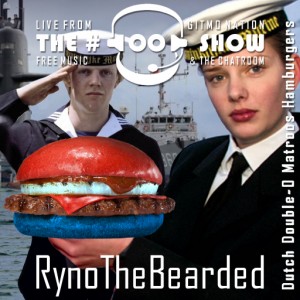 #OO for 6/19/2015 for your listening pleasure.
We actually have a total of for producers four last nights show. Big thanks to rosko our newest seaman with his .25 btc donation, Captain SaltyHash with 10 ltc, Captain Vidouchebag with $25 and Seaman John Fletcher came in with $12.34. Thank you everyone! We think we have decided on our title for the European tour donations. The word is "matroos" it is Dutch for seaman.
Big thanks to MartinJJ for shownotes and album art.
Anyways enough yapping on with the show!
Playlist
Chatroom Noise
And remember life is better when we share
Tags: ALM Productions, Almansor, Biting Elbows, Cassette Tape Bandits, Cock Invaders, DJ SUBRAY, GingerTom, Harvey Steel & The Harvey Steel Tribute Band, Hasenchat, Jeff Rosenstock, John Fletcher, Linstable_Officiel, Shinobu, The Bets, The Screens, TheHypnotunez, urmymuse, Victory and Associates, Virgin of the Birds, Zephyr Garden