Far Away With Doctor Popular
Podcast: Play in new window | Download (Duration: 3:05:37 — 425.2MB)
Subscribe: Apple Podcasts | Android | RSS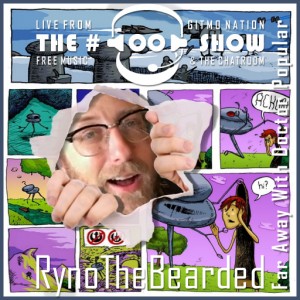 #OO for 4/22/2016 Aka A small Indie Film
Big thanks to our 3 producers and 2 new seaman Captain ViDouchebag comes in with $25, MajorDowner came in with $25 to officially become a member of the crew and kcdills with $20 also joins the crew. Welcome aboard! Thank all 3 of you for your generous donations.
MartinJJ with awesome album art and great work on putting together show notes.
We selected random tracks tonight and hit some that I could no longer find valid links for but were originally grabbed as cc.
Enough of this yapping on to the show
Playlist
Guest
Doctor Popular
Chatroom Noise
<Klaatu> love theme from Ryno's show

<Amsterdammack> no socks

<Fips> what do you guys think?

http://sniffpetrol.com/wp-content/uploads/2012/11/GT86exterior.jpg

<Fips> kcdills: yah, a used one for 20k just around the corner

<RynoTheBearded>

https://www.kickstarter.com/projects/docpop/far-away-a-comic-book-about-friendship-on-a-distan?token=6014ad24

<Amsterdammack> my first time live at the tracks was on this day:

https://youtu.be/RlWQy-gljhs

<Fips> Amsterdammack:

https://data.motor-talk.de/data/galleries/553606/3738897/rcn021020090521-12708.jpg

<Fips> Amsterdammack: /me doing a 9min lap on the 20832 meters of joy 🙂

<kcdills> i hope to travel to Germany someday and at least see the Nurburgring, if i can drive on it i would be ecstatic

<GummyNerds> talking in buzzwords, too

<Fips> MartinJJ: part of the starting fee, epxlicitly to pay for armco damage 😛

<MartinJJ> I suppose they just want your creditcard details

<Fips> MartinJJ: no, money upfront

<na_nutzo> When I lived in a downtown loft appartment, I'd hear car alarms go off multiple times a day.

<SaltyHash> cheers fellas

<Fips> kcdills: tried some 5y in "enterprise" world.. they're all mad

<Fips> oh, all the young guns.. i am such an old fart 🙁

<RynoTheBearded>

https://rynothebearded.com/oo-show/uploads/2016/04/Comcasted.png

<RynoTheBearded> this is my near future

http://www.cspire.com/home-services/

<Fips> MartinJJ:

http://devco.re/blog/2016/04/21/how-I-hacked-facebook-and-found-someones-backdoor-script-eng-ver/

<RynoTheBearded>

https://viennaditto.bandcamp.com/album/ticks

<RynoTheBearded> itm kcdills, the captain will make you an official seaman later

<RynoTheBearded> no god hates dinosaurs

<SaltyHash>

http://i.imgur.com/PZUrwI9.jpg

<RynoTheBearded>

http://podcastawards.com/

<SaltyHash>

http://i.imgur.com/Gpur01m.jpg

<SaltyHash>

http://i.imgur.com/YbaqzRj.jpg

<ViDouchebag> I attended Prince's Purple Rain concert in MI when I was 16 years old > it was fucking great > rest in peace Prince

<na_nutzo> What's up? Up is the opposite of down.

<ViDouchebag> prince was cutting songs at 16

<SaltyHash> pharma drugz, just say no, save our celebrities

<Amsterdammack> I am happy to meet the big band of Elvis, Marley, Jackson, Lennon, Prince and Frank Sinatra in heaven 😉
And remember life is better when we share
Tags: 85 decibel Monks, Antarctigo Vespucci, Beltaine's Fire, Daily Khaos delivery, Doctor Popular, Harvey Miller Ft T Rone, Kevin MacLeod, Mercury & The Architects, Neon NiteClub, Niki J Crawford, Professor Kliq, Professor Umlaut, Shinobu, Single Bullet Theory, Stuart Ross, The Decomposers, The Impossebulls, The Lathe Symphonic, The Sharp Things, Vienna Ditto, Wormburner