It Takes Four To FUBAR!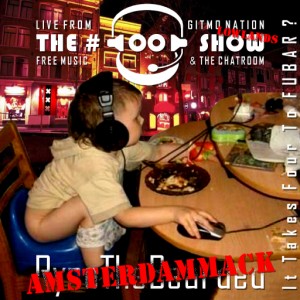 Ryno was out for his well deserved holidays at the beach….
The chance for us! Some listeners to Fuck it up! 
With the great help and presence of teighnted, RobLeather and SndChaser we deconstructed the myth of how easy it is to do a good show on a Friday night. We agreed that this was probably the best way to proof that you should donate to Ryno so he can buy a nice portable studio for the days he is on the road in the future! Donate to Ryno, donate to the artists and donate to keep up the NA servers! (If you are religious, you might pray that this is not happening again in the future.)
Massive problems occurred when I tried to get the hangout working. The camera that I used for the hangout was taking over the sound and I could not convince the google settings to keep the "Default" rather than the "USB" sound device. Screw you google! So we did it without me using video and had a blast. IF (and I do not promote it!) you want to follow the talk you may want to look at the recording on youtube below, but I assume you are here for the music, so I am thankful that SndChaser was sending me a copy of the playlist:
[03:40:47] <SndChaser> Here's your play list from the main show:
[03:40:49] <SndChaser> –> Professor Kliq – Plastic & Flashing Lights
[03:40:49] <SndChaser> –> ProleteR – April Showers
[03:40:49] <SndChaser> –> ONSIND – Heterosexuality is a construct
[03:40:49] <SndChaser> –> Professor Kliq – Work At Night
[03:40:49] <SndChaser> –> 20lb Sounds – El Bubblino
[03:40:50] <SndChaser> –> A Shocking True Story – When The Sun Goes Down
[03:40:52] <SndChaser> –> Cletus Got Shot – Never Coming Home
[03:40:54] <SndChaser> –> Spiedkiks – Selfie @ The Zoo
[03:40:56] <SndChaser> –> Ben Walker – Beaten Up
[03:40:58] <SndChaser> –> Brad Sucks – Making Me Nervous
[03:41:00] <SndChaser> –> Pheasant – Gravel Beach
[03:41:02] <SndChaser> –> T Bird and the Breaks – Your Nasty Love
[03:41:04] <SndChaser> –> Faroff – House Of Klezmer
[03:41:06] <SndChaser> –> Jonathan Coulton – I Feel Fantastic
[03:41:08] <SndChaser> –> The Freak Fandango Orchestra – A Russian Circus Story
[03:41:10] <SndChaser> –> 03 We'll Save The World
[03:41:14] <SndChaser> –> The Patinettes – Whisky galore
[03:41:16] <SndChaser> –> The Stereophones – 500 Days of Cocaine
[03:41:18] <SndChaser> –> The Wind Whistles – Make Your Own Stuff
[03:41:20] <SndChaser> –> Ukulele Clan Band – About a Chamaka

Believe it or not there is no recording of the show apart from the youtube video, but I was sitting down and put the songs together without all the rambling and talk.
If you still don't understand why you should give money to artists and bands after this show, I assume you must be taking hard drugs! Nobody can make this show looking so easy as Ryno does! Make sure you tune in for a great regular show next Friday!
ITM
Amsterdammack
PS: I have to announce to the public that I got threatened by a band that they will break my legs, so I played them twice and not as planned only once. Hope that is good for my Karma… https://twitter.com/freakfandango/status/469060980589494272
And remember life is better when we share
Tags: 20lb Sounds, A Shocking True Story, Ben Walker, Brad Sucks, Cletus Got Shot, Faroff, Jonathan Coulton, OSIND, Pheasant, Professor Kliq, ProleteR, Spiedkiks, T Bird and the Breaks, The Freak Fandango Orchestra, The Patinettes, The Stereophones, The Wind Whistles, Ukulele Clan Band