Bearded One Across the Pond: An Update part 2: The Humidity
Greetings and an awesome ITM to everyone!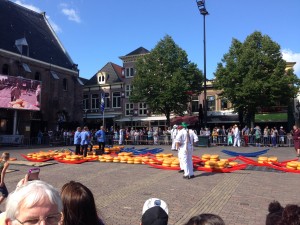 My awesome European adventure continues and I wanted to share with you another quick update. If you have listened to Friday's show you got to listen to RobLeather, teighnted and me celebrate a Friday evening together. Before that though I spent Friday morning with MartinJJ exploring his home town of Alkmaar. We went straight up tourist and checked out their world famous cheese market.
Apparently at one point in time it was a real market that moved a lot of cheese with the use of the canals.  Now it appears to be more for show but it was still cool to see some of the innovations they used from the past to move the cheese around with what they had.
We then we the rest of the way and took a tour of the canals and got to see an interesting view of the city. Even MartinJJ agreed as someone who has lived there his entire life it was pretty cool.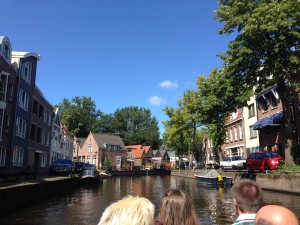 You definitely get to see the city from angles you never would have any other way.
Then that evening I hopped a flight over to Manchester England where I got to hang with the newlyweds and freaked out about everyone driving on the wrong side of the road. We had a great time as we went to their local pub the first night before coming back to record an excellent #OO that we completed with some awesomely delicious kabobs.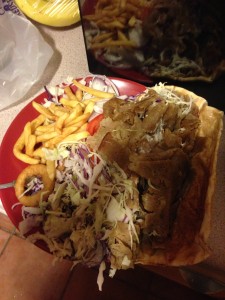 We headed to York the next day to check out some history, and learn about vikings in a 4-d experience. The guy did say I deserved a discount because of my awesome beard. I agreed.
As an American I will say one of the things that continuously catches me by surprise over here is just how old everything is. In America a 100 year old building is rare, especially were I live but in a city like York that would be considered new. For that part of the trip I will include probably the best selfie I have taken. After that went went on to have authentic English pub food from an authentic English Pub. I would include a picture of that but after already including a picture of food and a selfie included in the post and feel it would be inappropriate to add another picture of food.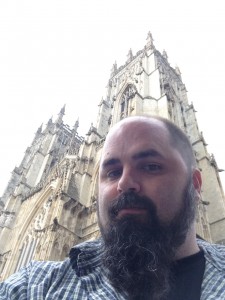 After leaving there I headed somewhere warmer. Barcelona. As someone who has lived in Mississippi for around a decade and been exposed to the heat for a while. Barcelona definitely qualifies as hot and humid. Trust me if it warm enough for me to say that it really means something. I do not through those terms out lightly. I can see why everyone walks around half naked around here.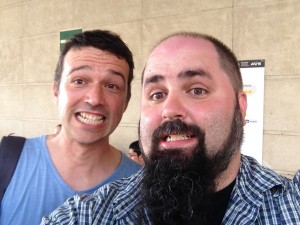 Since arriving in Barcelona I got to hang out with Jurgen on the beach at night as the cool breeze came in. It was one of those few nights I decided it was appropriate to not take any pictures and just enjoy the moment.
This morning once I got up and about I decided to take walk down the beach in Barcelona fine a nice seaside cafe and have some beer and pizza. It was as wonderful as you could imagine. I wish we had more of these open seating cafes like this in America but oh well. I guess I will just have to settle for an air condition restaurant.

Anyways I am looking forward to a fun evening and in the morning Paris.
See you then.
And remember life is better when we share